Active Directory User to Cerberus Group Mapping
By default, all AD users are assigned the same virtual directories and permissions. These defaults are configured on the Domain tab of the AD Users page.  However, if you wish to customize the directory and permission mappings for individual AD users then you can do so using the Customize button. You can select individual AD accounts and map them to Cerberus group accounts, or, you can map AD group accounts to Cerberus group accounts. Configuring an AD user to group mapping will override the Default Cerberus Group and Directory Mapping mode for the mapped AD user.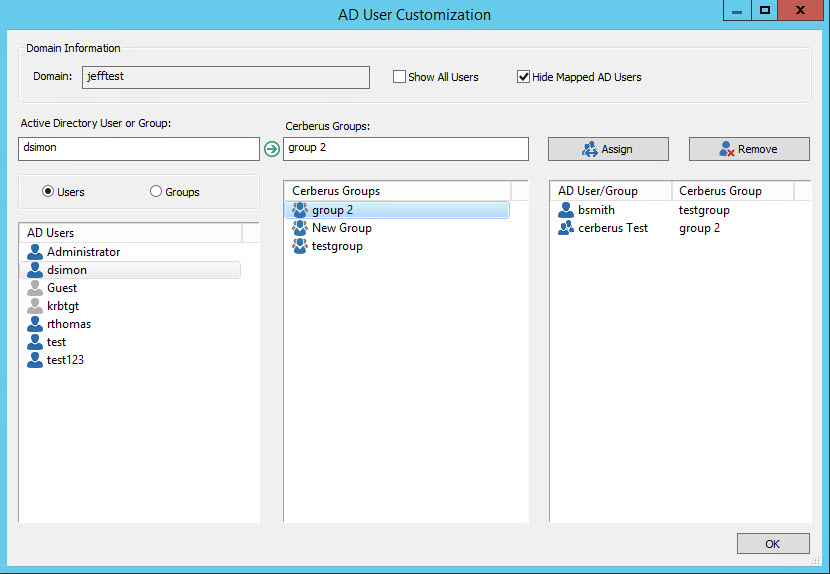 Creating an AD User to Cerberus Group Mapping
Mappings between an AD User and a Cerberus Group can be achieved by first selecting an AD domain. Then, select an AD user from the AD Users list box (or simply type the name of the AD user in the edit box) and then select a Cerberus Group. Select the Assign button and a mapping entry will be placed in the mapping list box to indicate the AD user will now have the same constraints and virtual directory mappings as the selected Cerberus Group.
Creating an AD Group to Cerberus Group Mapping
Customizing each individual AD User to a Cerberus group can be a time-consuming task if you have many users, especially if you can divide up large groups of users into just a few groups.
To make maintaining large numbers of users easier, you can use the new AD group to Cerberus group mapping capability. On the AD User Customization page, you can map AD groups to Cerberus groups.
When an AD user logs into Cerberus, the server will check the direct AD group memberships for that AD user and see if there are any AD group to Cerberus group mappings. If a mapping is found, the virtual directories for that Cerberus group will be added to the virtual root for the AD user. Only the virtual directories from the Cerberus groups are added to the AD user. No other constraints are transferred.
Note: The Default Group and Default Virtual Directory mappings are still applied to the user when AD group to Cerberus group mappings are present, unlike AD user to Cerberus user mappings.
Removing an AD mapping
To remove a mapping, simply select the mapped entry and press the Remove button.