The Registration dialog box
Using Cerberus FTP Server for commercial use past the 25 day evaluation period requires a license key. Once you have purchased and received a license key, you need to enter the license key details in the registration dialog box.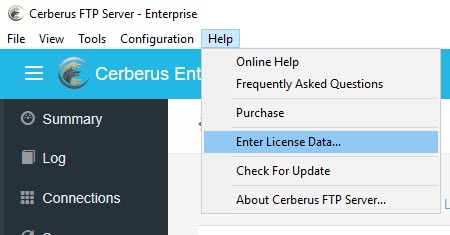 To open the registration dialog box, go to the Help menu and select the Enter License Data…menu item. A box similar to the one below will prompt you to enter your registration code. Open your license email and copy everything starting at and including "—–BEGIN REGISTRATION—–" all the way until and including "—–END REGISTRATION—–". Paste the copied text into the large edit box.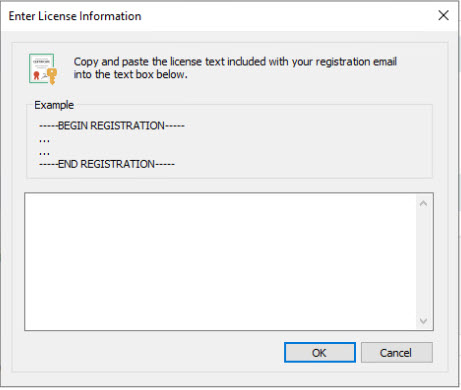 Press the OK button. After you press enter, another dialog box will appear to inform you of correct or incorrect registration information. Please note that a service restart is required after entering a new license key. Cerberus will prompt you to restart after successfully entering a new license key.
Once you have successfully registered Cerberus FTP Server, the "About" dialog box will display the registration contact name, company name, purchase date, and for how long the license entitles the user to free upgrades.