Share Settings
You can use the Public Shares page in the User Manager (available in the Enterprise edition only) to control and administer user's public file shares.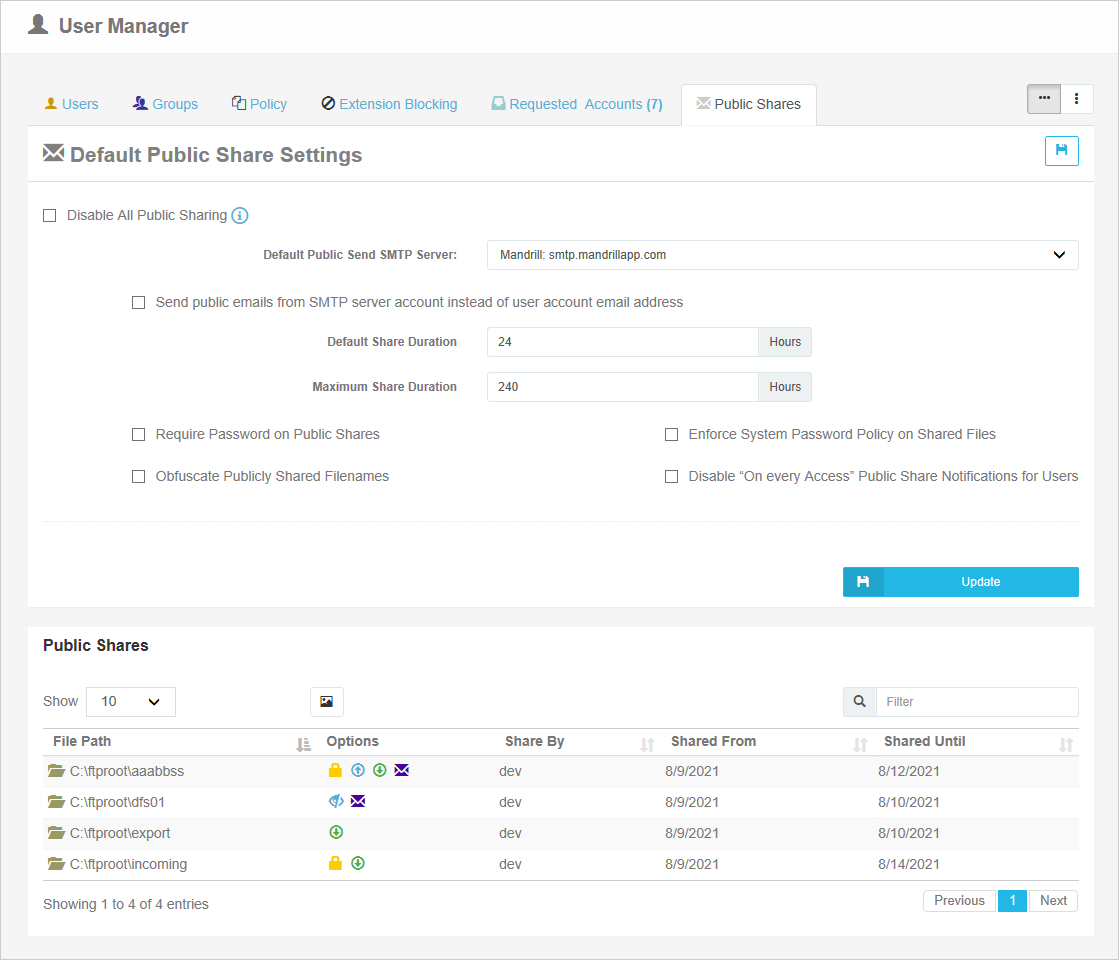 Advanced Public Share Settings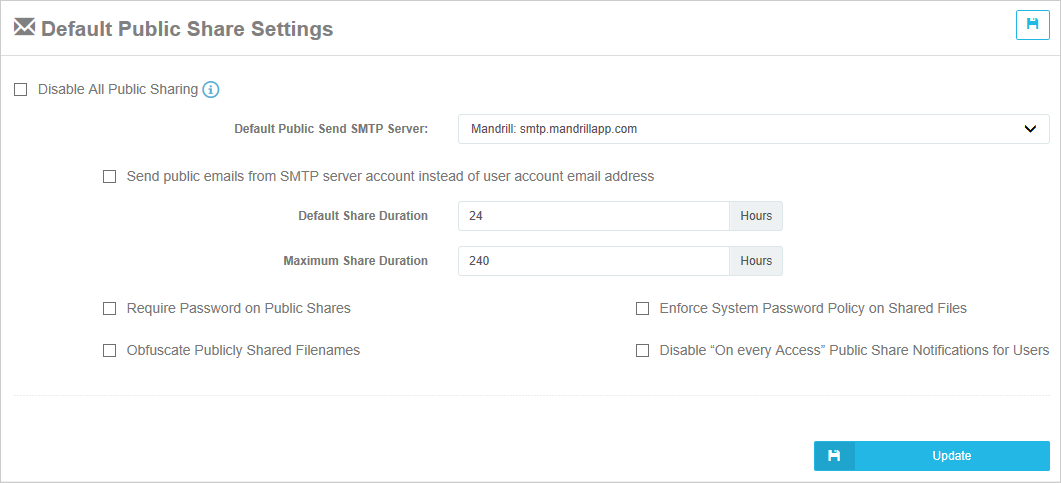 Disable All Public Sharing
Disable public file sharing for all users. This will also remove the tabs and options for sharing in the Web Client.
Default Public Send SMTP Server
This is the default email server used to send public file or folder sharing emails from the HTTPS web client. You can add and remove SMTP servers from the Event Targets page of the Event Manager.
Send Public emails from SMTP server account instead of user email address
Normally, Cerberus will use the name and email address on the user's account as the FROM address when sending emails. When this option is checked, the FROM email name and address configured with the SMTP server is used instead for the FROM address when sending public share emails. This

may be required by some SMTP servers

, such as O365.
Default Share Duration
This is the default number of hours that files and folders will be shared for if the user does not specify a time.
Maximum Share Duration

This is the maximum duration that a file or folder can be shared by a user. If the user picks a longer time, the maximum time will be applied instead. Administrators can extend the share duration to any length through the Shares web administration page.

Require Password on Shared Files
If checked, public file shares will be required to assign a password to the public share link. The server will reject sending the email if the user tries to include the password in the email body.
Enforce system password policy on shared files
If checked, when assigning a password for a public share link, the password complexity requirements defined under the policy setting will be enforced.
Obfuscate Publicly Shared Filenames
If checked, Cerberus removes the filename in the URL of all public shares. Enabling this feature causes public share links to have randomized characters in place of file names. Public shares now give no indication of what is shared.
Disable "On every Access" Public Share Notifications for Users
If checked, users will not see an option to get notifications for every access using a public share. Users will still be able to select from no notifications or on first access.
Public Share Options Icons

To learn what an icon means, find it below.

Share Permissions
The up arrow indicates users can upload files to the share.
The down arrow indicates users can download files from the share.

Password Protected
The lock icon will appear if the share is password protected.

Auto-Delete
The trash can icon indicates that files will be automatically deleted when the share expires.

Email Notification
The envelope icon indicates that email notifications are enabled for the share.