The administrator has full control over public file sharing. Before a user can share a file publicly, the administrator has to grant explicit sharing privileges to that user's virtual folder. Once granted permission, users can share files or entire folders.
Note: You can bypass the email options on the share wizard by simply clicking the "Create Share" button.
Creating a Public Share
Navigate to the folder you want to share.
Select the grey expand icon to the far right of the folder name. This will open an options section.
Press the Share button to bring up the public file sharing dialog. Public File Share Dialog - Never expires
Decide how long the file or folder should be available. When the Administrator has set a Maximum Share Duration, the options are Use Specific Date and Never Expires as shown above in the 'Public File Share Duration' screenshot. Selecting Never Expires means the public share will never expire and can be used as a permanent link if you wish. However, if your Cerberus administrator sets a 'Maximum Share Duration' clicking Use Max Date will set the date and time to the maximum value allowed by the Administrator at the time the share is actually created; while in the Wizard, the date field will show an "estimated" expiration. Public File Share Dialog - Use Max Date
Specify a password that anyone clicking on the link must enter before being allowed access (optional)
Depending on whether you are sharing a file or a folder and the user share settings, will determine what options are presented.

Allow Public Downloads

This option is enabled by default when sharing a file. For folders, when checked, allows files in the shared folder to be downloaded.

Allow Public Uploads to this folder
When sharing a folder, files can be uploaded to the shared folder.
Enable Hidden Uploads to this folder
For public uploads, this allows users to create a public share link that enables recipients to upload files while not seeing or downloading the files that anyone else has uploaded.
Notify me by email when a file is downloaded or uploaded

Users can select to receive an email if a file is downloaded or uploaded from a public share. Users can choose from:

No Notification - Users will not be notified when the file is accessed or when a file is uploaded or downloaded form the folder.


On first access- You are only notified the first time the file is accessed or a file is uploaded or downloaded from a folder.

On interval - Notifications will be collated and sent as one email on this interval if any are present at that time.


File Share Options Folder Share Options
Press the Create Share button to generate a unique URL or Next if you wish to send an Email.
Emailing a Public Share Link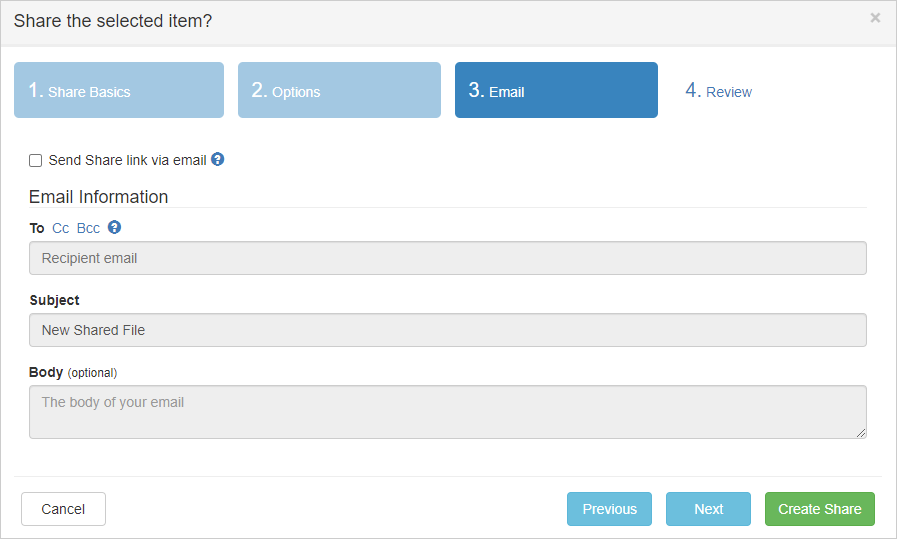 Email Options
Once you enable "Send Share link via Email" on the Email panel, you will be able to set your email settings as desired. You can click on the CC and BCC link to open those fields and add multiple emails to the share link using the address book or entering the address. We have added validation to your email addresses and will automatically add sent emails to your address book.