To access the localization tool, look for and select Localization on the left tool menu of the Cerberus user interface.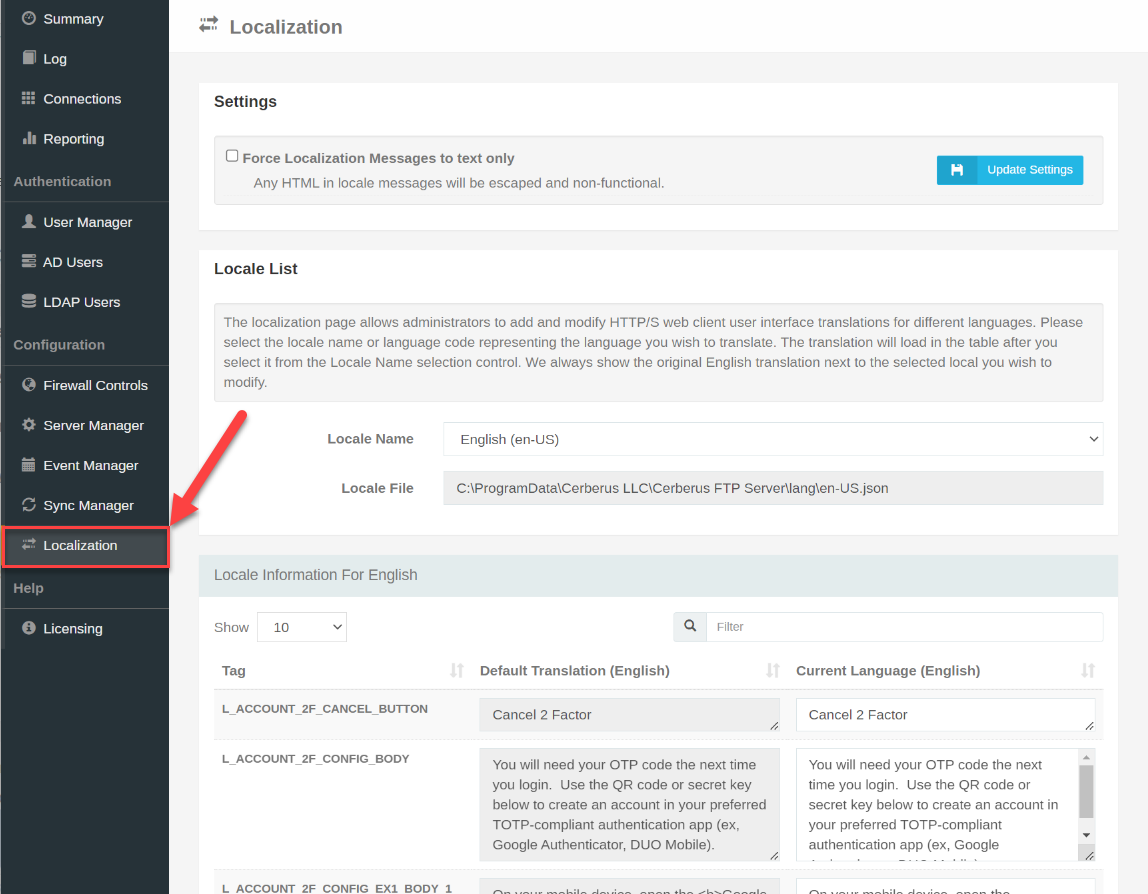 You can use the Localization tool to modify the HTTP/S web client user interface messages for English and to translate them into other languages. There are translation tags for every string your end users may encounter, from the UI elements to the message notifications they receive.
To edit a translation of a language, find the language in the Locale Name list.
What if you don't see your language in the 'Locale Name' list?
Cerberus doesn't create a language file until someone attempts to log in to the web client with their PC and/or browser settings set to another language. If the server you have installed Cerberus on is set to your desired language, you can try connecting to the Cerberus Web Client on that server to create your desired language translation file. If you do that and still don't see your desired language on the drop-down (after closing and reopening the user interface), you may want to go back and check the language settings on your server and browser if your language is missing from the drop-down list.
Alternative Method: If you wish to have more than one language available to your users and you don't have a way to have someone log into the web client from a browser/PC set to that language, you can also make a copy of the English *.json file in C:\ProgramData\Cerberus LLC\Cerberus FTP Server\lang (or whatever drive letter you have installed Cerberus on.) and give it the two-letter ISO language code for that language. Translations in the user interface are drawn from the <language_code>.json file for that language (see ISO 2 Letter Language Codes), where <language_code> is the two-letter ISO language code. For example, Spanish is 'es', French 'fr', and German 'de', using the two-letter ISO language codes. You will note there are *.csv files in the language folder as well. They are there for convenience in case you wish to send it to someone to provide translations for you that you can later copy into the corresponding *.json.
Editing Translations
Once you have selected a language, you will see the language tags, default translation, and the translation for each available item. (For a translation we don't have, you will see the default English values.) Use the filter option at the top of the page to help find a specific language tag. You can filter by Tag or message string.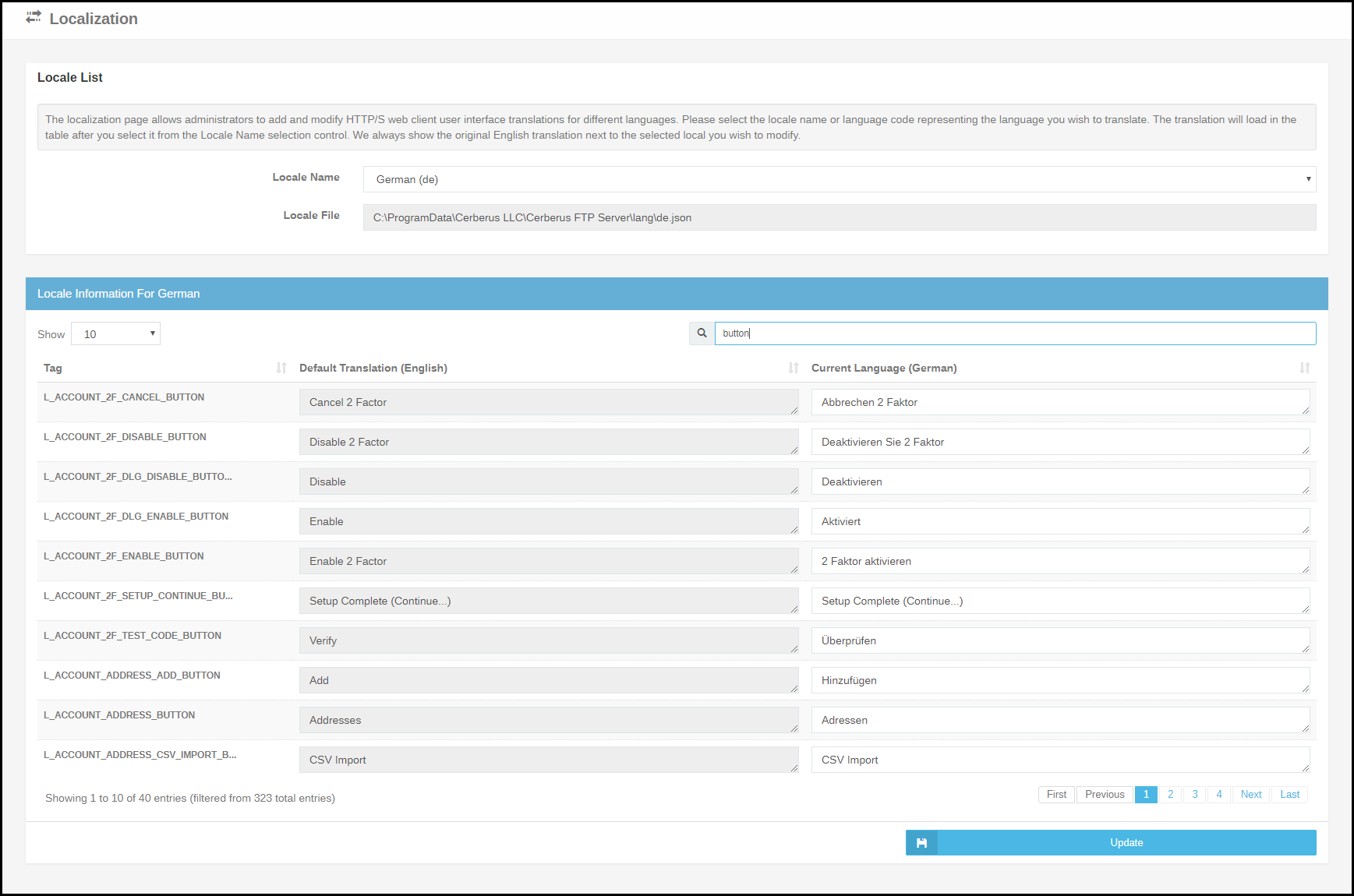 Locale List and Translations
'Force Localization Messages to text only' Security Setting

Please be aware that if a translation manages to get corrupted and present a hyperlink to a malicious site, end-users could have security concerns. Cerberus FTP has the ability to turn off all HTML encoding in its translations if you know that you are not using the HTML UI feature. On the Localization page, select 'Force Localization Messages to text only' and then 'Update Settings'. This will ensure that all of your messages will be HTML escaped. Also, you will be notified if any of your messages did use HTML and which of these translation tags need to be updated.
Configuring Web Client Login Page Messages
Starting in version 12 of Cerberus, you have the ability to use HTML when customizing the Web Client login page. The login page for password-protected public shares can also be customized separately. For more information and configuration instructions, see Configuring Web Client Login Page Messages