Using the latest version of Cerberus FTP Server you can backup the entire server configuration, including the license key, to a single archive using the menu and selecting the Tools -> Backup Users and Settings option. The backup can later be restored using the Tools -> Restore Settings and Users option. When restoring, if you do not wish the license key to be included in the restoration, click the 'Do Not Import License Key' box.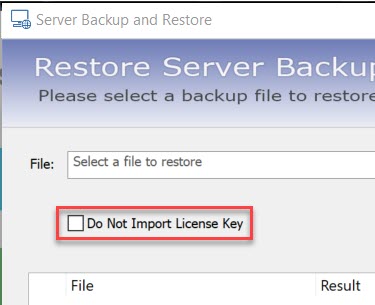 Note, the backup does not include your actual server file structure. Please make sure you are running the latest official release of Cerberus FTP Server before executing your backup.
For older releases only:
For Cerberus FTP Server 4.0.5 and below there is a fairly simple and straightforward method of backing up and restoring all users and settings. Just copy the "Cerberus FTP Server" folder and subfolders located at:
C:\ProgramData\Cerberus LLC\Cerberus FTP Server on Windows Vista and above

or


C:\Documents and Settings\All Users\Application Data\Cerberus LLC\Cerberus FTP Server on Windows 2003 and below
and you will have backed up all of the users and settings for a complete install of Cerberus FTP Server. Restoring everything just requires pasting the files back to that location.